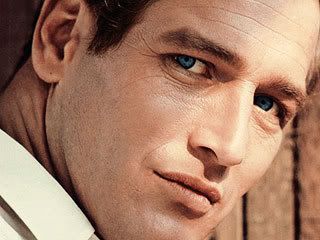 1925-2008
My heart is broken.
There isn't a soul alive tonight who's been touched my this man's work, onscreen or off, who shouldn't sit down and pay homage to possibly one of the greatest actors - and philanthropists - we will ever see. Sit down and watch something great. Something he gave us.
I bought my first bottle of Newman's Own wine while in New Hampshire in July, and even then my heart was heavy. That was the same weekend I saw a photo of Mr. Newman on the cover of one of those awful magazines, and...we all knew it was coming. But that never makes it easier when it does.
What a man:
With writer A.E. Hotchner, Newman founded Newman's Own, a line of food products, in 1982. The brand started with salad dressing, and has expanded to include pasta sauce, lemonade, popcorn, and salsa, and wine among other things. Newman donates the proceeds, after taxes, to charity. As of early 2006, the franchise has resulted in excess of $200 million in donations.[3] He co-wrote a memoir about the subject with Hotchner, Shameless Exploitation in Pursuit of the Common Good. Among other awards, Newman co-sponsors the PEN/Newman's Own First Amendment Award, a $25,000 reward designed to recognize those who protect the first amendment as it applies to the written word.

One beneficiary of his philanthropy is the Hole in the Wall Gang Camp, a residential summer camp for seriously ill children, which is located in Ashford, Connecticut. Newman cofounded the camp in 1988; it was named after the gang in his film Butch Cassidy and the Sundance Kid (1969). Newman's college fraternity, Phi Kappa Tau, adopted "Hole in the Wall" as their "national philanthropy" in 1995. One camp has expanded to become several Hole in the Wall Camps in the U.S., Ireland, France and Israel. The camp serves 13,000 children every year, free of charge.[3]

In June 1999 Newman donated $250,000 to the relief of Kosovo refugees.

On June 1, 2007, Kenyon College announced that Newman had donated $10 million to the school to establish a scholarship fund as part of the college's current $230 million fund-raising campaign. Newman and Woodward were honorary co-chairs of a previous campaign.
[from Wikipedia]
So, from someone who never had the great honour of meeting the man, I wish peace to him, and to his family, and tonight I will watch
The Hustler
for the eighteenth time and cry like the world is ending.
Because a little piece of it has.