Happy Canada Day, everyone! I'll never understand anyone who says that we're not patriotic. Everyone I know adores being Canadian, and god knows we have plenty of reason to adore it.
I
love
that I live in a place that truly
celebrates
love, in all its forms. I love that Toronto dedicates a whole week to teaching acceptance and respect and just having
fun
. I didn't get to participate in any of the events this year - I was supposed to go to PANIC on Saturday night, which was
Pride Themed
(The Gay 80s!), but not only have I been sick, but the party was canceled because of liquor license problems at FunHaus. But at least I got to catch some of the revelry on the news, and it just makes me smile. I love thinking back and never being able to remember a time when seeing two men walking down the street holding hands seemed the least bit odd to me. My parents never even had to explain what "being gay" meant, as far as I know; I guess I just learned by example. They were cool with it, so I never knew there was any reason
not
to be.
One of the best things about this year's parade was the involvement of
our military
. Every year, more and more groups of people who traditionally adopted the "don't ask, don't tell" mentality, or who were outright homophobic or hateful, have been joining in the celebrations. It's always such a welcoming time in the city. Literally a
million
people hit the streets, and they're every gender, colour, religion, occupation, even orientation - I have
loads
of straight friends who march along each summer and are welcomed with open arms into the party. It's just...cool. If only we could take that snapshot, that one week, and blow it up into a macrocosm... It's practically utopian. Maybe someday that will spread further than just a week every year. Where it doesn't matter who or what you are - you can all just get a kick out of each other's similarities and differences.
From the CBC website:
Soldiers march in Toronto Gay Pride parade
Set up booth in Gay Village for recruitment drive
(Robin Rowland/CBC)
-
For the first time, members of Canada's Armed Forces represented the military in Toronto's annual Gay Pride parade, held Sunday.

Lt. Steven Churm, one of 10 soldiers from across the country who marched in uniform, said their presence sends a message that the Canadian military is inclusive and an equal-opportunity employer.

"The message to the public is that the Canadian Forces is an employer of choice. We have employment opportunities that people can pursue, regardless of gender identity, sexual orientation," he told CBC News.

"For our own members, they can be proud of what they're doing and also be proud of who they are."

To mark its place in the festivities, the Canadian Forces set up an information booth in an area of the city where thousands of people gathered for the start of the parade.

The parade is the main event for Canada's largest gay pride celebration and marks the end of a week of festivities that organizers say attracted about one million people.
The stories are
all over the news
every year, and it seems like the events just keep getting bigger and more fantastic. And how can you not just love seeing endless photos like these??:
About one million spectators gathered to watch the annual Gay Pride Parade in Toronto. (Richard Wahab, CTV Toronto)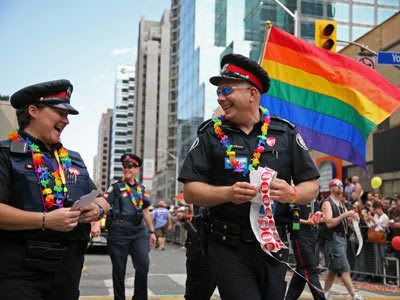 Toronto Police took part in the Pride festivities. (Richard Wahab/CTV Toronto)
Our Mayor always marches, too, as do other high profile and high influence people, some gay, some straight, and all in the right spirit of things.
Just so cool. And just one of a million reasons to love being Canadian, today and every day. As Sloan has said,
One thing I know / about the rest of my life / I know that I'll be living it in Canada!
Amen to that.